The ideal age for otoplasty is when the ears reach their maximum size. So this is the size of an adult, which actually happens quite early, around age five to six. This is also an ideal age because the patient hasn't really started school yet. They may be in kindergarten or first grade, and they're able to follow directions and do well postoperatively, but haven't been in school so long as to be able to be exposed to other kids who may bully them or make fun of their ears. It's something that you can address before it affects their self-confidence, and the way that they see themselves. But that being said, I've operated on people from 5 to 60 years old.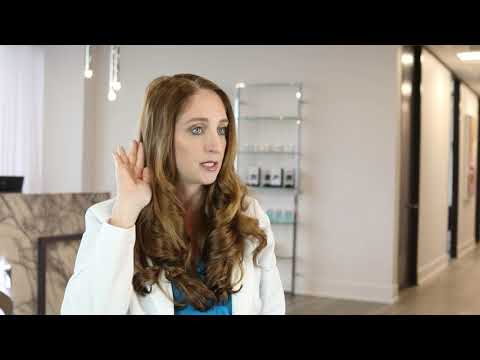 Can otoplasty make ears smaller?
Technically, we don't make the ears smaller. The actual dimensions of the ear are exactly the same. What we're doing is setting it back closer to your scalp, so it appears flatter and less noticeable from the front. We affect the little curve in the middle called the anti-helix. On some people this is flatter, and makes it stick out more, so we create that. Or you can affect the conchal bowl, which sets the ear back, making it flatter from the front and less noticeable.
Is otoplasty permanent?
Yes, this should be permanent. What we do is make permanent changes in the cartilage, and then use sutures that are either permanent sutures, or ones that last for a long time before they dissolve. This way, it holds the cartilage exactly where we want it to be, while things heal. And part of that healing process keeps the cartilage exactly in that place. Over time, the ear will just stay exactly where it is. And it shouldn't come back or be a problem in the future.
What is the recovery time for otoplasty?
Recovery time for otoplasty is about a week. In most cases, you have an incision that is on the back of the ear with sutures that come out about a week. There is also some swelling and discomfort, over a few weeks time it gets better and better. At that point, you're ready to go back to work or school or your normal activities.
How much does otoplasty cost?
The cost of otoplasty depends on where you are located, your surgeon, the type of anesthesia, and the techniques that you're using. This can vary from $3,000-7,000 depending on all of those things. You can have otoplasty under local anesthesia. However, if you're younger or just want to be the most comfortable, you can have general anesthesia or IV anesthesia. This does have additional costs, with facility and anesthesia fees, but it does make you very comfortable. And, in some cases, this can be covered by insurance. You may need to work with your surgeon to find the appropriate documentation to submit.
Is otoplasty worth it?
Absolutely. Our confidence is the most important thing that we have. If there is something that bothers you, and you can do something about it, it can make a huge difference in the way that you see yourself. Even improving the way that you interact with others. So, I absolutely think it's worth it.
Have questions?
Call or email any time. I'd sincerely love to hear from you.
About Dr. Angela Sturm
Dr. Angela Sturm is a double-board certified facial plastic surgeon with certifications with the American Board of Otolaryngology – Head and Neck Surgery and the American Board of Facial Plastic Surgery. Dr. Sturm's meticulous nature makes for exceptional results and satisfied patients. Dr. Sturm was named Texas Monthly's Super Doctors Rising Star in 2016-2017, Texas Monthly's Super Doctor in 2018-2019, H Texas Magazine's Top Doc in 2013-2018, Top Doc by Houstonia magazine in 2016-2018, Houston Business Journal's People on the Move and 40 under 40, Blazing Star Award by Texas Women's Chamber of Commerce, Top Women in Business, one of the Top 30 Influential Women of Houston, Best Female Cosmetic Surgeon in Out Smart, and given the Patients' Choice Award, On Time Doctor Award and Compassionate Doctor Award by Vitals.com.