Eyebags don't usually come back after surgery, but if the surgery is more conservative, you could see some remaining fat. In that case, you might want to go back and have a little more fat removed. It's not a good idea to be too aggressive the first time because once the fat is removed, it's very difficult to fix that. So it's much better to be more conservative at first, and then if you need to remove more fat, it can be done later.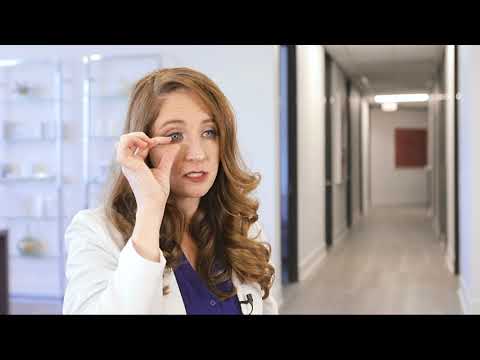 Do the bags come back years later?
Bags can return years later in some people as fat may return to the area as the skin becomes laxer there. However, this is not something that we typically see. Those that do see eye bags return do not experience until 15 or 20 years later.
Is eye bag surgery painful?
Eyebag surgery is not painful. In fact, it is one of the least painful surgeries that you can have. Sometimes patients may experience a bit of a headache behind their eyes for the first day after surgery, but generally, that goes away within 24 hours and does not require any pain medication.
What's the best procedure for under-eye bags?
The best procedure to address under-eye bags is a lower blepharoplasty which involves removing the excess fat that's causing the bulging under the eyes. Depending on your anatomy, we may just remove the fat, or, if you have deep tear troughs under your eyes, we can transfer that fat into that area which acts as a permanent filler. Fat transfer is a great option to fill in areas that are indented or hollow. This is where fat is taken from other areas of the body and transferred to where it is needed.
As an alternative to surgery, eye bags can be made less prominent by tightening the excess skin under the eyes. To do that, make an incision under the lower lashes and remove the redundant skin or we use a laser or a peel to tighten the skin. Neither of these will address the fat though, which makes surgery the best option for eye bags. Tightening of the skin during surgery also helps to give you the best result.
Have questions? I'd love to help.
Call me at (281) 336-9300
About Dr. Angela Sturm
Dr. Angela Sturm is a double-board certified facial plastic surgeon with certifications with the American Board of Otolaryngology – Head and Neck Surgery and the American Board of Facial Plastic Surgery. Dr. Sturm's meticulous nature makes for exceptional results and satisfied patients. Dr. Sturm was named Texas Monthly's Super Doctors Rising Star in 2016-2017, Texas Monthly's Super Doctor in 2018-2019, H Texas Magazine's Top Doc in 2013-2018, Top Doc by Houstonia magazine in 2016-2018, Houston Business Journal's People on the Move and 40 under 40, Blazing Star Award by Texas Women's Chamber of Commerce, Top Women in Business, one of the Top 30 Influential Women of Houston, Best Female Cosmetic Surgeon in Out Smart, and given the Patients' Choice Award, On Time Doctor Award and Compassionate Doctor Award by Vitals.com.