The best age for a blepharoplasty depends on genetics. Changes to your upper and lower eyelids generally follow the same path as your mom, dad, or grandma's eyelids. When you look at these family members, you should be able to tell whose eyes look most like yours. In some families, almost everybody has had a blepharoplasty done because the skin, particularly on the upper eyelid, becomes lax to where it actually rests on the lashes. For some, there are eye bags under the eyes, which are actually fat that's around the globe of the eye that pushes out and becomes noticeable.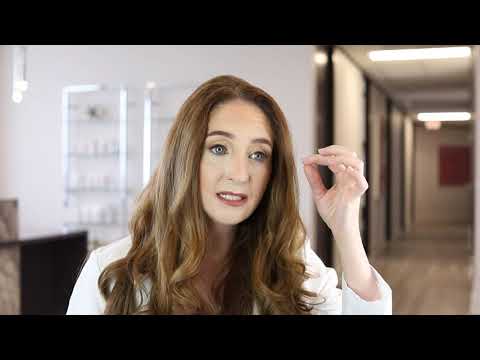 Since it's genetic, some people may start to see these changes as early as in their 30s, while for other people it may take until they are in their 50s or 60s. You'll know when it's time because you may see a little bit of extra skin that really kind of drives you nuts whenever you're putting on your makeup or are taking pictures.
Is blepharoplasty, painful?
Blepharoplasty is not particularly painful, which is one of the things I really like about this procedure. It's pretty quick and the downtime is really not a big deal. We usually give you a few pain medications to take home, but a lot of people don't even take them. For them, Tylenol is usually sufficient. Some people may experience a little bit of a headache behind the eyes for about a day or so, but there's typically no pain after that.
With an upper blepharoplasty, we can do the procedure in the office under local anesthesia. It's the sort of procedure that makes a big difference because we always look at other people's eyes when talking. Making the eyes brighter and more awake makes you appear more youthful and vibrant, which can make a huge impact without a whole lot of downtime or pain.
How much does it cost to get a blepharoplasty done?
The cost of a blepharoplasty ranges between surgeons and whether you're doing just upper lids, just lower lids, or both. Are we using general anesthesia or local? There's also other life factors that can cause other issues with the eyes and in that case, I would suggest an ocular plastic surgeon. All of this can impact your price.
Typically, an upper blepharoplasty can range anywhere from $2000 to $5000 dollars with lower blepharoplasty coming in at around $3000 to about $6000 dollars. We offer a discount if you do them together and you also save money on anesthesia by doing it all at once.
If you have questions, call or email any time. I help people like you every day and I'd love to talk.
Have questions? I'd love to help.
About Dr. Angela Sturm
Dr. Angela Sturm is a double-board certified facial plastic surgeon with certifications with the American Board of Otolaryngology – Head and Neck Surgery and the American Board of Facial Plastic Surgery. Dr. Sturm's meticulous nature makes for exceptional results and satisfied patients. Dr. Sturm was named Texas Monthly's Super Doctors Rising Star in 2016-2017, Texas Monthly's Super Doctor in 2018-2019, H Texas Magazine's Top Doc in 2013-2018, Top Doc by Houstonia magazine in 2016-2018, Houston Business Journal's People on the Move and 40 under 40, Blazing Star Award by Texas Women's Chamber of Commerce, Top Women in Business, one of the Top 30 Influential Women of Houston, Best Female Cosmetic Surgeon in Out Smart, and given the Patients' Choice Award, On Time Doctor Award and Compassionate Doctor Award by Vitals.com.