Blepharoplasty scars typically heal really fast, with stitches remaining for seven days. After that, beginning on day eight, it's okay to wear makeup which will cover any redness that may be lingering. Usually at the end of one week my patients are healed to the point where other people don't really notice anything. If you have skin that tends to turn red whenever you have a cut or incision you may just have a little remaining redness for a bit longer that's easily hidden with concealer.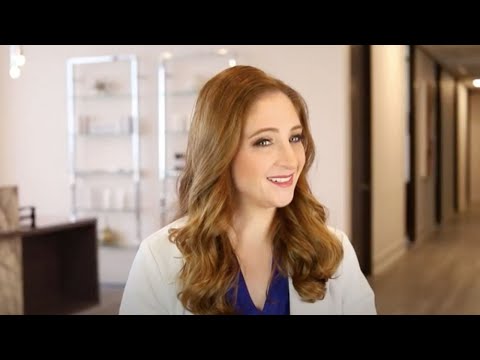 Does blepharoplasty leave a permanent scar?
Anytime you have surgery you will have a scar and a scar is permanent. The real question is, how visible is the scar? Most of the time, eyelid skin heals easily to the point where the scar fades so well that even if you have a line there, it's difficult to see.
How do you hide scars from eyelid surgery?
To hide scars from eyelid surgery, the placement of the incisions are crucial. For upper lids, we place the incision in the crease of the eyelid and just a little bit outside the eye, to be able to get that extra skin. This hides the scar very well when your eyes are open and people won't see it when you're talking to them or just normal activities. For the lower lids, the incisions are either inside the lash line, so you don't have any external scars, or directly under the lashes, allowing it to heal into a little line that most people have there anyway.
How long will my eyes be swollen after blepharoplasty?
Most patients' eyes are swollen for about a week after a blepharoplasty. There is some swelling that can last up to a month and it can take about three months for everything to completely settle in, but the swelling after week one is not the type of swelling that's going to keep you from going out and doing your normal activities.
The first three days post surgery are the peak of your swelling. So plan to hang out at home for at least the first three days and if you have stitches, for at least five or seven days. However, usually by day seven, a lot of the swelling is gone to where other people wouldn't know that you've had surgery.
Have questions? Call or email any time. I help people like you every day. Schedule a consultation on my website now.
Have questions? I'd love to help.
Call me at (281) 336-9300
About Dr. Angela Sturm
Dr. Angela Sturm is a double-board certified facial plastic surgeon with certifications with the American Board of Otolaryngology – Head and Neck Surgery and the American Board of Facial Plastic Surgery. Dr. Sturm's meticulous nature makes for exceptional results and satisfied patients. Dr. Sturm was named Texas Monthly's Super Doctors Rising Star in 2016-2017, Texas Monthly's Super Doctor in 2018-2019, H Texas Magazine's Top Doc in 2013-2018, Top Doc by Houstonia magazine in 2016-2018, Houston Business Journal's People on the Move and 40 under 40, Blazing Star Award by Texas Women's Chamber of Commerce, Top Women in Business, one of the Top 30 Influential Women of Houston, Best Female Cosmetic Surgeon in Out Smart, and given the Patients' Choice Award, On Time Doctor Award and Compassionate Doctor Award by Vitals.com.