A SMAS facelift is a type of facelift where the muscle in the face is lifted to rejuvenate the skin. The SMAS is actually the name of a thin layer of muscle in the face that lies under the skin and fat. Anatomically, you have your skin, then a layer of fat, and then this muscle under it. The SMAS muscle is what actually sags over time, creating laxity in the cheeks, nasolabial folds, marionette lines, and jowls. These are areas that most people complain about and that need to be lifted back up to where they were to make the face look youthful and rejuvenated.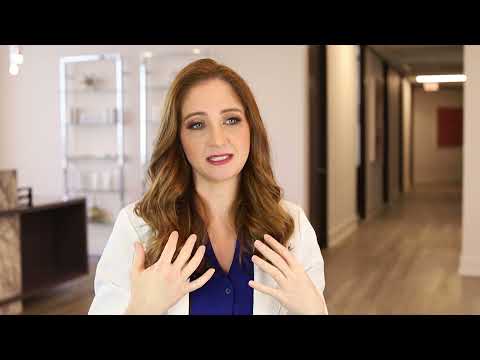 When we do a SMAS facelift, we lift up the skin to expose that thin layer of muscle, then we pull that muscle back up to where it used to be. It's almost like making a bed where you have wrinkles in the sheet at the bottom of the bed. When you pull it back up to the top it flattens out the wrinkles in the sheet. I use permanent sutures because we want it to stay lifted as long as possible.
The thing that I also do is redrape the skin so that it has absolutely no tension and it's nice and smooth. That way your incisions heal into a very fine line where you can't even see the scar. The draping also prevents that "pulled" look that people fear. It looks very natural.
What is the difference between a deep plane and a SMAS facelift?
The main difference between a deep plane and SMAS facelift is how we lift the muscle. In an SMAS facelift, we go under the skin to the muscle where we lift it up to where it belongs then redrape the skin over it, whereas in a deep plane facelift we lift the muscle and skin together as one unit. It's really dependent on your surgeon and the way they're most comfortable performing the procedure to get the best results.
There's a constant debate between surgeons, and everyone will tell you that their way is the best. That's just the way that we are. That's why we're surgeons. That's what we do. Some surgeons get amazing results with a deep plane facelift while others get amazing results with a SMAS facelift.
There are pluses and minuses of both procedures. The nerves connect under the muscle, so those who are pro-SMAS facelift believe it's a safer procedure because they're never in the same plane as the nerves, which makes the chance of nerve damage very minimal. There's also less swelling than a deep plane facelift because we aren't dissecting as deeply. There won't be that swelling that you would normally get around your mouth in the mid-face with an SMAS facelift. However, those who prefer to perform a deep plane facelift believe the procedure gives a much better lift because they're moving everything at the same time.
The bigger question is really how the surgeon performs the SMAS facelift. The way I do it is I lift from the jowl because that's the part of your face that moves more easily. If you're only lifting a centimeter or two in front of your ear, that doesn't pull very much, but if you're able to pull the muscle at the jowl, you're going to have just as good of a lift as the deep plane provides. So you can see that results really depend on who's doing the lift and how they perform it.
There's a lot of different variables when it comes to surgeries. Oftentimes you'll hear a surgeon use the expression "in my hands." What they're referring to is that a specific surgery in their hands works the best and this is true because the success of a facelift is not just about a specific method. It's about the surgeon's technique and the little extras or tweaks that they use that makes it successful for them and their patients.
What's really important is what makes you the most comfortable. Do you like the way that a particular surgeon's results look? Is it in line with your aesthetic? Look at before and after pictures and ask questions.
How long does a SMAS facelift last?
A SMAS facelift lasts about 10 to 15 years, which is the same as a deep plane facelift. This means we're rewinding the clock so you'll look about 10 to 15 years younger. Obviously, the aging process continues but you'll always look younger than your age. However, it's not as if time stands still and that you'll look exactly the same 15 years later as you did post surgery.
How much does it cost?
The cost of a SMAS facelift depends on your surgeon, geographical location, the method being used by your surgeon, and whether your surgeon is using local or general anaesthesia. The typical range can be anywhere from $5,000 up to $15,000. I've even heard of some surgeons charging up to $25,000.
Is a SMAS facelift worth it?
A SMAS facelift is absolutely worth it. My patients have had amazing results with the SMAS facelift and have said it's the best thing they've ever done for themselves. Your confidence is everything, and feeling good in your skin and when looking in the mirror is priceless. Most people want their outside appearance to match how they feel on the inside and for that reason the SMAS facelift is absolutely worth it.
Have questions? Call or email any time. I help people like you every day. Schedule a consultation on my website.
Have questions? I'd love to help.
Call me at (281) 336-9300
About Dr. Angela Sturm
Dr. Angela Sturm is a double-board certified facial plastic surgeon with certifications with the American Board of Otolaryngology – Head and Neck Surgery and the American Board of Facial Plastic Surgery. Dr. Sturm's meticulous nature makes for exceptional results and satisfied patients. Dr. Sturm was named Texas Monthly's Super Doctors Rising Star in 2016-2017, Texas Monthly's Super Doctor in 2018-2019, H Texas Magazine's Top Doc in 2013-2018, Top Doc by Houstonia magazine in 2016-2018, Houston Business Journal's People on the Move and 40 under 40, Blazing Star Award by Texas Women's Chamber of Commerce, Top Women in Business, one of the Top 30 Influential Women of Houston, Best Female Cosmetic Surgeon in Out Smart, and given the Patients' Choice Award, On Time Doctor Award and Compassionate Doctor Award by Vitals.com.