Hooded eyes are those eyes with excess skin of the upper lids that are heavy or push down on the lashes, or in some people, come down over the lashes. This can happen due to age and is typically inherited. Take a look at your family. You might be able hooded eyes in your parents or grandparents.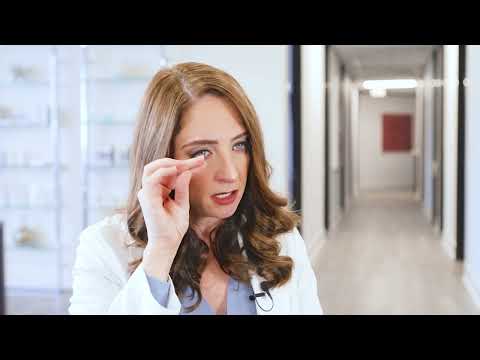 How can I tell if I have hooded eyes?
When you have hooded eyes, the eyelid skin is heavy which can make the eyes look sleepy or not as alert or awake. In some cases, the eyelid skin can push down on the lashes or even cover up the lashes.
What are hooded eyelids versus non-hooded eyelids?
Hooded eyelids have excess skin versus non-hooded eyelids that do not. When the excess skin pushes down on the lashes or covers them up, it creates a hood. This hooded appearance can also be caused by low brows because these types of brows push down the eyelids causing the eyelids to push down on the lashes.
There are some non-hooded eyelids that have excess skin of the upper lids but the eyes are not hooded. The problem with these upper lids is that it makes applying makeup more difficult. Eyelid surgery is an option to fix this problem, too.
Can I get rid of hooded eyelids due to aging?
Getting rid of hooded eyelids due to aging is one of the simplest surgeries that we do. It's an upper eyelid surgery where we actually take out that extra skin that's pushing down on your lids. The incision is hidden in the crease of the eyelid, and the surgery can be done under local anesthesia in the office with a pretty easy recovery period. There's a little bit of bruising and swelling afterward, but by the 7th day the stitches are out and a lot of the bruising and swelling are gone.
Have questions? Call or email anytime. I would love to hear them and set up a consultation.
Have questions? I'd love to help.
Call me at (281) 336-9300
About Dr. Angela Sturm
Dr. Angela Sturm is a double-board certified facial plastic surgeon with certifications with the American Board of Otolaryngology – Head and Neck Surgery and the American Board of Facial Plastic Surgery. Dr. Sturm's meticulous nature makes for exceptional results and satisfied patients. Dr. Sturm was named Texas Monthly's Super Doctors Rising Star in 2016-2017, Texas Monthly's Super Doctor in 2018-2019, H Texas Magazine's Top Doc in 2013-2018, Top Doc by Houstonia magazine in 2016-2018, Houston Business Journal's People on the Move and 40 under 40, Blazing Star Award by Texas Women's Chamber of Commerce, Top Women in Business, one of the Top 30 Influential Women of Houston, Best Female Cosmetic Surgeon in Out Smart, and given the Patients' Choice Award, On Time Doctor Award and Compassionate Doctor Award by Vitals.com.