A mini facelift lifts the lower part of the face, between your cheekbones and your jawline. This improves the appearance of your cheeks, marionette lines, jawline, nasolabial folds and the chin area directly under your mouth. A mini facelift goes by a number of different names, such as mini facelift or lower facelift. It can also include a brand name with the word facelift added to it.
This procedure used to be called a short scar facelift due to the incision being shorter than that of a full face lift. While it goes around the front of your ear, it barely continues around your ear lobe, and doesn't continue under the hairline or up into the temples. This is best for people who only have laxity in the lower face and don't need to address anything in the neck.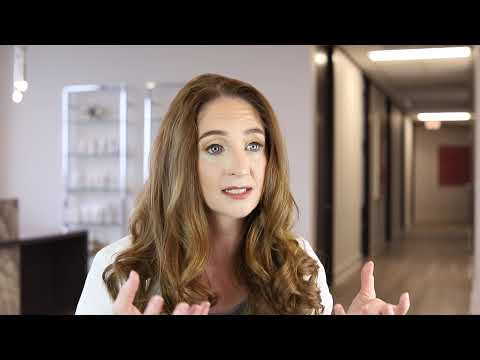 What age should you get a mini facelift?
A mini facelift is not really dependent on age as much as it's dependent on your aging process. Some people only have laxity in the lower face area with a tight neck well into their 60s while others may be starting to see laxity in the upper face and along the jawline in their 50s, and then later in the neck. Then there are some people who only have neck laxity. So it really kind of depends on the patient, but if you're going to make a generalization, you may do a mini facelift before you consider a full facelift.
Typically, during the aging process, you may see some minor changes along the jawline and in your folds by your late 40s, early 50s. That's the perfect time for a mini face lift. If you wait, then maybe in your 60s, you'll see a little bit more laxity in the neck and upper face too, which might indicate a full face lift. So it really does depend on you and your timing.
What is the difference between a mini face lift and full facelift?
A mini facelift and a full facelift are very similar things. These terms are kind of thrown around a lot and it can be very confusing for patients. When hearing the word "facelift," most people think of the face, meaning the eyebrows and entire face, not the neck. However, what a full facelift really refers to is the area from the cheekbones down to the jawline and including the neck. A mini facelift doesn't include the neck or eyebrows. A lower facelift is another word that adds to the confusion because some surgeon use it the same as full facelift while others use it as a mini facelift.
So you have to ask a lot of questions and find out where the incisions are going to be and what the surgeons are calling the procedure, because a lot of these lifts will have different names or brand names.
Have questions? Call or email any time. I help people like you every day, and I'd love to talk.
Have questions? I'd love to help.
Call me at (281) 336-9300
About Dr. Angela Sturm
Dr. Angela Sturm is a double-board certified facial plastic surgeon with certifications with the American Board of Otolaryngology – Head and Neck Surgery and the American Board of Facial Plastic Surgery. Dr. Sturm's meticulous nature makes for exceptional results and satisfied patients. Dr. Sturm was named Texas Monthly's Super Doctors Rising Star in 2016-2017, Texas Monthly's Super Doctor in 2018-2019, H Texas Magazine's Top Doc in 2013-2018, Top Doc by Houstonia magazine in 2016-2018, Houston Business Journal's People on the Move and 40 under 40, Blazing Star Award by Texas Women's Chamber of Commerce, Top Women in Business, one of the Top 30 Influential Women of Houston, Best Female Cosmetic Surgeon in Out Smart, and given the Patients' Choice Award, On Time Doctor Award and Compassionate Doctor Award by Vitals.com.