Rhinoplasty is the most effective way to fix a crooked nose. Sometimes it's hard to make it 100% straight because nobody's nose is totally straight, but we can make a crooked nose a lot straighter. In fact, a crooked nose is one of the most common reasons people want a rhinoplasty, and that's one of the most common things we do.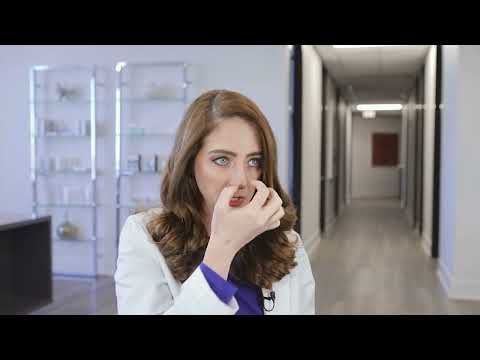 Can you fix a crooked nose with closed rhinoplasty?
A crooked nose can be fixed with either a closed or open rhinoplasty. With closed rhinoplasty, you don't have the little incision under your tip in the columella and there is slightly less swelling. We're able to control the top of the nose where the nasal bones are, the middle of the nose, and the tip as well.
Can you fix a crooked nose with open rhinoplasty?
A crooked nose can be fixed with an open rhinoplasty, but there'll be a tiny incision under the tip in the columella. However, we have access to the entire nose all the way up in between your eyes which allows me to move the nasal bones and the cartilage with easy access to the tip to make the nose as straight as possible. I actually prefer the open rhinoplasty approach to fix a crooked nose because, for the best result, we need to move all of those cartilages in the midline.
Have questions? I'd love to help.
Call me at (281) 336-9300
About Dr. Angela Sturm
Dr. Angela Sturm is a double-board certified facial plastic surgeon with certifications with the American Board of Otolaryngology – Head and Neck Surgery and the American Board of Facial Plastic Surgery. Dr. Sturm's meticulous nature makes for exceptional results and satisfied patients. Dr. Sturm was named Texas Monthly's Super Doctors Rising Star in 2016-2017, Texas Monthly's Super Doctor in 2018-2019, H Texas Magazine's Top Doc in 2013-2018, Top Doc by Houstonia magazine in 2016-2018, Houston Business Journal's People on the Move and 40 under 40, Blazing Star Award by Texas Women's Chamber of Commerce, Top Women in Business, one of the Top 30 Influential Women of Houston, Best Female Cosmetic Surgeon in Out Smart, and given the Patients' Choice Award, On Time Doctor Award and Compassionate Doctor Award by Vitals.com.