Filler can be used in the apples of the cheeks to give you a more youthful look and a more rejuvenated appearance overall. This is an area of the cheek that you will see flattening over time. In some people, it can become hollow. It's one of my favorite places to put filler.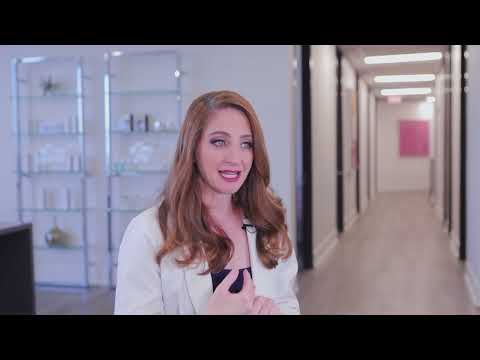 Restoring that natural contour of the anterior portion of the cheek gives a softening to the whole face. It's important to go to an experienced injector for this because there is a lot of vascularity in that area and the injector needs to know exactly where the blood vessels are located to make sure not to inject into one.
Which filler is best for the cheeks?
There are a lot of different fillers that work well in the cheeks. Since it's an area with thicker skin and the presence of fat, there's versatility in what we can place here.
Fillers that have more volume and structure tend to work really well, such as Juvederm Voluma or Restylane Lyft. They last longer and can build up the cheekbones and add cheek fullness. There are also injectables that are made specifically for that area that are a little more elastic and tend to move more with the cheeks, such as Restylane Defyne and Restylane Contour. These fillers provide volume and softness to the cheeks without being firm or able to be felt.
Do cheek fillers hurt?
The cheeks are one of the least painful places to get filler injections because of the way that they're injected. Generally, cheek fillers are injected perpendicular to the skin to build that area out and give that curve to the cheek. There are some fillers that are injected a little more superficially and in a cross-hatch pattern, but those fillers might be more easily felt post injectio. We use a very good numbing cream, and the fillers themselves do have lidocaine in them, so as it's injected, the area becomes more numb and comfortable.
Once a patient is done getting cheek filler, they'll typically say, "Oh my gosh, I thought that was going to be so much worse and it really didn't hurt."
How long will cheek fillers last?
The length of time cheek fillers last depends on the type of filler that's been injected. In general, we use firmer fillers that have more structure and tend to last longer, typically between 12 and 24 months. The life of the filler also depends on how much filler is placed. A small amount of filler in an area may go away faster because it gets broken down by the body and there's just not that much filler there. In that case, it might only last less than a year. However, if we rejuvenate with a large amount, it should last 12 to 24 months.
Have questions?
Call or email any time. I'd sincerely love to hear from you.
(281) 336-9300
About Dr. Angela Sturm
Dr. Angela Sturm is a double-board certified facial plastic surgeon with certifications with the American Board of Otolaryngology – Head and Neck Surgery and the American Board of Facial Plastic Surgery. Dr. Sturm's meticulous nature makes for exceptional results and satisfied patients. Dr. Sturm was named Texas Monthly's Super Doctors Rising Star in 2016-2017, Texas Monthly's Super Doctor in 2018-2019, H Texas Magazine's Top Doc in 2013-2018, Top Doc by Houstonia magazine in 2016-2018, Houston Business Journal's People on the Move and 40 under 40, Blazing Star Award by Texas Women's Chamber of Commerce, Top Women in Business, one of the Top 30 Influential Women of Houston, Best Female Cosmetic Surgeon in Out Smart, and given the Patients' Choice Award, On Time Doctor Award and Compassionate Doctor Award by Vitals.com.