A jowl lift is another term for a facelift. It is often recommended when the jowl, which is the the area along the front of the jawline, becomes fuller or a little droopy over time. What we do is lift that area up, making the jawline really nice and straight. The terms facelift, lower facelift, and jowl lift are interchangeable, depending on which surgeon you're seeing. A lower face lift generally includes the area from the cheekbone to the jawline, and that is what is lifted in a jowl lift. The incisions are hidden nicely around the ear with downtime only lasting about a week or so.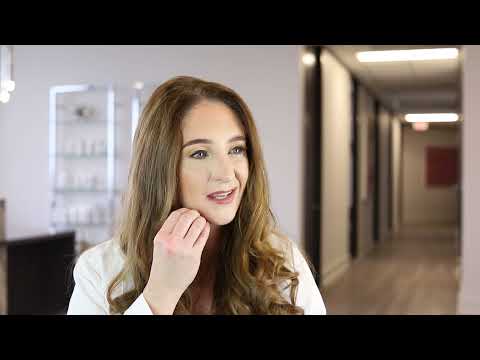 Can I tighten my jowls without surgery?
There are a lot of different ways to tighten the jowls without surgery, but surgery is always going to give you the most dramatic result. Even with some downtime, you will get the most out of it and it lasts anywhere from 10 to 15 years, if not more.
If you don't want surgery, we can perform skin tightening treatments such as Ulthera or Thermage. These treatments depend on your ability to produce collagen. They can be a little bit more comfortable than surgery but the results can be a bit variable. We also offer microneedling with radiofrequency to tighten the skin. I use Morpheus8 and I really like those results, but there are other microneedling with radiofrequency machines out there that are being used, such as Infini. If you have that little bit of jowl, this can really make a difference in that area.
There are also thread lifts that can target the jowl area. This procedure is done in-office and you should see results within a few days with very minimal downtime. Lastly, we also offer Kybella injections in the jowl to melt the fat.
There are lots of different options to tighten the jowl area. Talk to your plastic surgeon about your options so you can decide what is best for you. If you have questions, email any time. I help people like you every day and I'd love to talk.
Have questions? I'd love to help.
Call me at (281) 336-9300
About Dr. Angela Sturm
Dr. Angela Sturm is a double-board certified facial plastic surgeon with certifications with the American Board of Otolaryngology – Head and Neck Surgery and the American Board of Facial Plastic Surgery. Dr. Sturm's meticulous nature makes for exceptional results and satisfied patients. Dr. Sturm was named Texas Monthly's Super Doctors Rising Star in 2016-2017, Texas Monthly's Super Doctor in 2018-2019, H Texas Magazine's Top Doc in 2013-2018, Top Doc by Houstonia magazine in 2016-2018, Houston Business Journal's People on the Move and 40 under 40, Blazing Star Award by Texas Women's Chamber of Commerce, Top Women in Business, one of the Top 30 Influential Women of Houston, Best Female Cosmetic Surgeon in Out Smart, and given the Patients' Choice Award, On Time Doctor Award and Compassionate Doctor Award by Vitals.com.