A facelift is a procedure that lifts the midface which includes the cheeks, jawline, and neck. So it basically lifts everything, whereas a mini facelift lift only lifts the cheeks and jawline. The incision is shorter in a mini facelift than a facelift but both are hidden in the hairline and around the ear. Additionally, you can wear your hair up after both procedures if your surgeon is good at placing the incisions and hides them well.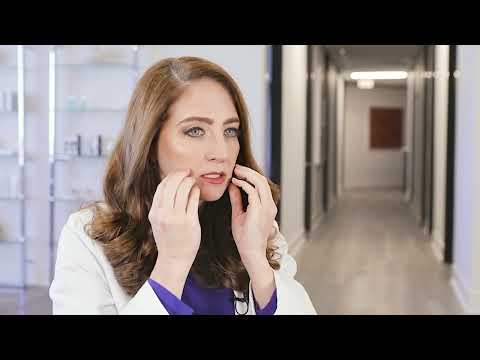 How long does a mini facelift last?
The length of time a mini facelift lasts depends on how the mini facelift is done. There are a lot of different branded mini facelifts out there, some of which last longer than others. If the mini facelift is done the same way as a full facelift, it can last ten years or more. However, if it's done in one of the more abbreviated ways where there's only one, two, or three sutures placed in the deeper tissues to give you that lift, it may not last as long.
Do they do this the same way they do their full facelift and just not do the neck, or is it a more abbreviated version?
If you're getting a mini facelift in an hour, chances are there are not that many sutures being used in the deep structure that's holding them up. Make sure to ask a lot of questions and find out how your mini facelift is being done. I would definitely get more than one consultation just to make sure you're going to get the best result.
Is a mini facelift worth it?
A mini facelift is worth it for someone that only has a small amount of laxity, someone who's seeing some descent in the midface or cheeks, but the smile line, jawline, and neck look pretty good. With a mini facelift lasting between 5 to 10 years or more, depending on how it's done, it can be well worth it, especially for someone who isn't interested in fillers or skin tightening procedures.
Have questions? I'd love to help.
Call me at (281) 336-9300
About Dr. Angela Sturm
Dr. Angela Sturm is a double-board certified facial plastic surgeon with certifications with the American Board of Otolaryngology–Head and Neck Surgery and the American Board of Facial Plastic Surgery. Dr. Sturm's meticulous nature makes for exceptional results and satisfied patients. Dr. Sturm was named Texas Monthly's Super Doctors Rising Star in 2016-2017, Texas Monthly's Super Doctor in 2018-2019, H Texas Magazine's Top Doc in 2013-2018, Top Doc by Houstonia magazine in 2016-2018, Houston Business Journal's People on the Move and 40 under 40, Blazing Star Award by Texas Women's Chamber of Commerce, Top Women in Business, one of the Top 30 Influential Women of Houston, Best Female Cosmetic Surgeon in Out Smart, and given the Patients' Choice Award, On Time Doctor Award and Compassionate Doctor Award by Vitals.com.