One of the things that I really like about Morpheus8 is it does not have a lot of downtime. If you're doing it mostly for lifting, you will have maybe a day of being red. It just looks like a little sunburn, or even less noticeable than that. Then, it goes away the next day. You can put on makeup, and people are out doing their normal activities on day two.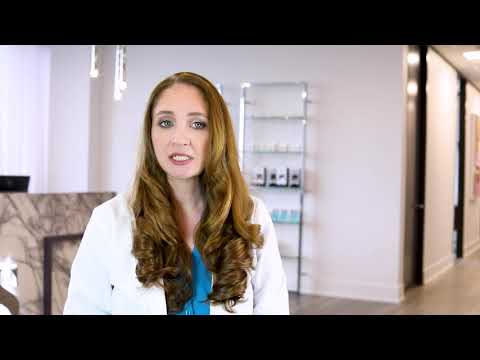 If you're doing it for the texture, rather than the lifting — or if we want both — there's a different headpiece that we use. And that resulting downtime can be two to three days, even up to five for some people. But again, for most people it's two to three days. Bottomline, the downtime is pretty minimal for the outcomes that you're getting, which is a really nice lifting and texture. Overall, your skin just looks smoother and better.
How long does it take to heal from Morpheus8?
So, the pricks from the tiny micro needles that we use are healed within 24 hours. Plus, those channels are wonderful right after the procedure for applying things like exosomes or PRP to the skin to make it even healthier. By the next day, it's completely healed. You can put on makeup, you can wash your face, you can do all your normal things. You may be red for 1-3 days. I've seen 5 days at the most, but that's not very common.
Does Morpheus8 hurt?
Our patients say: No. We are able to give you some medication that makes you nice and relaxed, and then we have a numbing cream that works very well to make it very comfortable. Also, our technique just treats certain areas of face at once, making full utilization of our numbing cream. So, our patients usually say it is much easier than what they thought it was going to be.
Can I wash my face after Morpheus8?
Yes. Use a gentle cleanser for about 24 hours, and don't apply any active ingredients until 2-3 days after your procedure. But you can wash your face. You can put on makeup the next day. You can basically get back to normal.
How do I prepare for Morpheus8?
If you're taking medications like aspirin, ibuprofen, dish oil or blood thinners, you need to stop those about a week before your procedure. This can minimize any bruising. Also, if you're using any active ingredients in your skin care, such as Retin-A, Retinol, or Glycolic, you want to stop those at least 48 hours before your procedure. Aim to be well hydrated, get a good night's rest, and be ready for your procedure the next day.
Have questions?
Call or email any time. I'd sincerely love to hear from you.
Read More
About Dr. Angela Sturm
Dr. Angela Sturm is a double-board certified facial plastic surgeon with certifications with the American Board of Otolaryngology – Head and Neck Surgery and the American Board of Facial Plastic Surgery. Dr. Sturm's meticulous nature makes for exceptional results and satisfied patients. Dr. Sturm was named Texas Monthly's Super Doctors Rising Star in 2016-2017, Texas Monthly's Super Doctor in 2018-2019, H Texas Magazine's Top Doc in 2013-2018, Top Doc by Houstonia magazine in 2016-2018, Houston Business Journal's People on the Move and 40 under 40, Blazing Star Award by Texas Women's Chamber of Commerce, Top Women in Business, one of the Top 30 Influential Women of Houston, Best Female Cosmetic Surgeon in Out Smart, and given the Patients' Choice Award, On Time Doctor Award and Compassionate Doctor Award by Vitals.com.