A HydraFacial treatment is basically a facial with lots of extras to clean out your pores and deeply hydrate the skin. What I love about this treatment is that I don't have to do manual extractions that are time-consuming and can be uncomfortable for the patient. The machine removes all the impurities from your skin; then I'm able to thoroughly cleanse the skin and infuse it with serums based on your skin type and your goals. The result is glowy, dewy and healthier skin.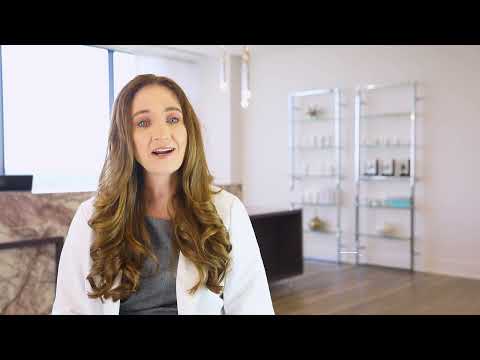 How often should you get a HydraFacial?
I recommend HydraFacials around every four to six weeks, just like you would get a regular facial. It helps clean everything out, keeps your skin in shape, and keeps your skin the healthiest that it can be.
What can I expect from a HydraFacial?
Usually you look really great immediately following a HydraFacial. Everything is really hydrated and very plump. The skin appears soft and dewy right away so you don't need makeup. Your skin looks great enough to go to the store or anywhere else you need to go.
What should you not do after a HydraFacial?
You shouldn't apply makeup following a HydraFacial because all your pores will be open and you don't want to clog them up. The next day your skin will look amazing. So give it a day for everything to settle in and then you can go back to your normal skin care and makeup routine.
How long do HydraFacials last?
In general, a HydraFacial lasts about four to six weeks because that's when your skin starts to turn over again and you may have some impurities building back up. At that point you would want to do this really great cleanse and hydrate your skin again with another HydraFacial.
If you have questions, call or email any time. I help people like you every day and would love to talk.
Have questions? I'd sincerely love to hear from you.
Call me at (281) 336-9300
Read More
About Dr. Angela Sturm
Dr. Angela Sturm is a double-board certified facial plastic surgeon with certifications with the American Board of Otolaryngology – Head and Neck Surgery and the American Board of Facial Plastic Surgery. Dr. Sturm's meticulous nature makes for exceptional results and satisfied patients. Dr. Sturm was named Texas Monthly's Super Doctors Rising Star in 2016-2017, Texas Monthly's Super Doctor in 2018-2019, H Texas Magazine's Top Doc in 2013-2018, Top Doc by Houstonia Magazine in 2016-2018, Houston Business Journal's People on the Move and 40 under 40, Blazing Star Award by Texas Women's Chamber of Commerce, Top Women in Business, one of the Top 30 Influential Women of Houston, Best Female Cosmetic Surgeon in Out Smart, and given the Patient's Choice Award, On Time Doctor Award and Compassionate Doctor Award by Vitals.com.