A composite rhinoplasty is a graft that is used during rhinoplasty to bring the nostrils down. The word composite infers that there's more than one element in the graft, such as cartilage, skin, mucosa, etc.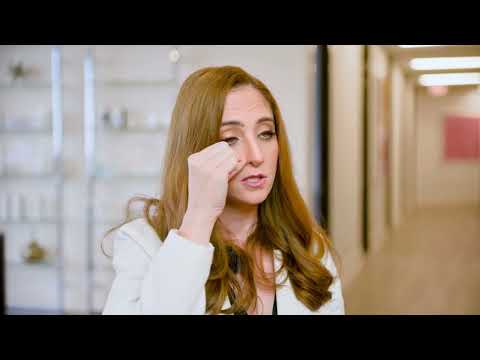 Whenever we say composite graft in rhinoplasty, we're referring to a graft that contains cartilage plus skin harvested from your ear. We use that to place inside your nose to lower the alar, or the sides of the nose, to a more aesthetic position.
Are composite grafts only used in revision rhinoplasty?
Composite grafts are not only used in revision rhinoplasty. While this is where they're most commonly used, they are also used in first-time rhinoplasties for people who've experienced trauma to the nose or inflammation that has caused their alar to be pulled upward.
What is a tip graft?
A tip graft is a graft most commonly made up of cartilage that is placed in the tip of the nose to give it more definition and a little more projection. This is useful in people with very thick skin or who've had a previous rhinoplasty, but still want more refinement of the tip or more definition.
What are nose grafts made of?
Most commonly, nose grafts are made of cartilage from your septum which is the divider between the two sides of the nose. We can also harvest nose grafts from your ear or rib. In a revision rhinoplasty, oftentimes the septum cartilage has already been used, so the ear and rib come into play. This can be a donated rib or it could be from bone, depending on what it is that we're needing to reconstruct.
Is composite graft revision rhinoplasty more expensive?
Composite graft revision rhinoplasty can be more expensive because it is a more complicated procedure and there are fewer surgeons who perform this type of rhinoplasty on a regular basis. Some surgeons may package the composite graft along with the rhinoplasty or it may be an additional charge because this is a procedure that is often done separately. It depends on how your surgeon is packaging and quoting you.
Have questions?
Call or email any time. I'd sincerely love to hear from you.
(281) 336-9300
About Dr. Angela Sturm
Dr. Angela Sturm is a double-board certified facial plastic surgeon with certifications with the American Board of Otolaryngology – Head and Neck Surgery and the American Board of Facial Plastic Surgery. Dr. Sturm's meticulous nature makes for exceptional results and satisfied patients. Dr. Sturm was named Texas Monthly's Super Doctors Rising Star in 2016-2017, Texas Monthly's Super Doctor in 2018-2019, H Texas Magazine's Top Doc in 2013-2018, Top Doc by Houstonia magazine in 2016-2018, Houston Business Journal's People on the Move and 40 under 40, Blazing Star Award by Texas Women's Chamber of Commerce, Top Women in Business, one of the Top 30 Influential Women of Houston, Best Female Cosmetic Surgeon in Out Smart, and given the Patients' Choice Award, On Time Doctor Award and Compassionate Doctor Award by Vitals.com.