A deep plane facelift is done by creating an incision and going under the skin to separate the skin and the SMAS (superficial musculoaponeurotic system) from the attachments that hold it down. Once untethered, we move the whole area, the whole face, and/or the whole neck back up to where it used to be. This is a more natural way to do a facelift; this method has no tension.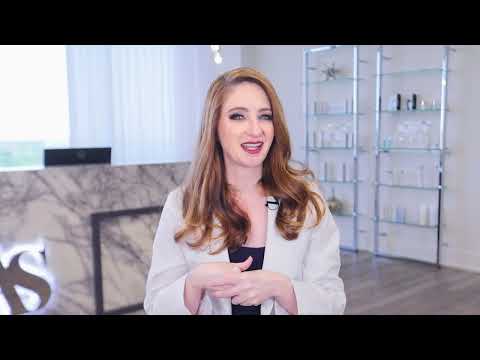 The alternative method is the SMAS lift. It's addressing the fibrous layer between the skin and the deeper structures of the face. This is the plane that actually descends over time. With the SMAS lift, we're just going under the skin, grabbing that layer, and pulling it back to where it used to be. We're not detaching it from the deeper structures of the face.
So while both procedures lift the SMAS, the deep plane facelift detaches it from its tethers so there is no tension.
Is a deep plane facelift better?
I feel that a deep plane facelift is better because we're lifting up the SMAS layer which descends over time, and preventing it from staying attached to the things that hold it down. Once it's detached, we can restore the SMAS back to where it was when you were younger. This allows us to give you a more natural lift. It doesn't feel as pulled because there's no tension.
The importance of not having tension on the lift is because as the muscles in your face move, it will create tension which will pull on the stitches and over time the skin will become relaxed sooner than we would like.
Also, if you have tension, the incision is going to be pulled away from it was originally placed and well hidden, to a more prominent position. It may even appear larger and stretched out. Without tension, the facelift lasts longer, looks more natural and you have an overall youthful look.
The answer to the question of whether a deep plane facelift is better varies by surgeon, but for me, the deep plane facelift is better.
How long do the results of a deep plane facelift last?
The results of a deep plane facelift last between 10 to 15 years. Compare that to the results of the SMAS lift that lasts only 7 to 8 years. In some cases, the deep lane face lift lasts almost doubly long.
At 10-15 years, does it go back to the way it was before you had surgery?
At 10 to 15 years, a deep plane facelift does not go back to the way your face looked before surgery. However, you will continue to age, and you may notice signs of that aging over the years, such as some laxity in the skin, some jowling, and some laxity in the neck. That might be something you would want to address at that time.
How much does a deep plane facelift cost?
The cost of a deep plane facelift varies widely based on your geographic location, your surgeon, and your surgeon's experience. It also depends on any added procedures that might be performed with the facelift. Prices can start at around $10,000 and go up from there.
Have questions? I'd love to help.
Call me at (281) 336-9300
About Dr. Angela Sturm
Dr. Angela Sturm is a double-board certified facial plastic surgeon with certifications with the American Board of Otolaryngology – Head and Neck Surgery and the American Board of Facial Plastic Surgery. Dr. Sturm's meticulous nature makes for exceptional results and satisfied patients. Dr. Sturm was named Texas Monthly's Super Doctors Rising Star in 2016-2017, Texas Monthly's Super Doctor in 2018-2019, H Texas Magazine's Top Doc in 2013-2018, Top Doc by Houstonia magazine in 2016-2018, Houston Business Journal's People on the Move and 40 under 40, Blazing Star Award by Texas Women's Chamber of Commerce, Top Women in Business, one of the Top 30 Influential Women of Houston, Best Female Cosmetic Surgeon in Out Smart, and given the Patients' Choice Award, On Time Doctor Award and Compassionate Doctor Award by Vitals.com.