A recessed chin is a chin that sets further back than the ideal. It's also called a weak chin. Generally, when you have a strong chin, it gives you a more defined jawline, and this can look both more feminine and more masculine, depending on your face.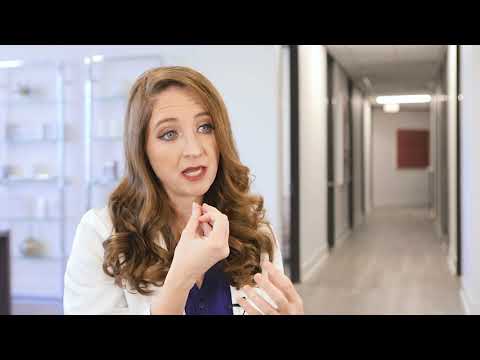 Is a recessed chin genetic?
In most cases, a recessed chin is genetic. While there are other developmental conditions that can cause a recessed chin, most people inherit it from their families. Basically, the cause is that the mandible didn't grow as big as it should.
Can you fix a recessed chin?
You can fix a recessed chin with a few different options. The easiest solution is a chin implant in which a solid silicone implant is placed through an incision, either under your chin or through your mouth. It's not something like a breast implant that needs to be changed out after a period of time. Once it's there, it heals, and you really just don't ever think about it again.
The other way we can fix a recessed chin is with a genioplasty. This is a procedure done with incisions inside the mouth, where you actually move the mandible bones forward or backward, and we can make it smaller, or make it more pointy. We can shape it in any way the patient desires
The decision to go with a chin implant or a genioplasty depends on whether the patient just wants projection or a reshaping. The chin implant has less downtime and is the easiest solution.
Have questions? I'd love to help.
Call me at (281) 336-9300
About Dr. Angela Sturm
Dr. Angela Sturm is a double-board certified facial plastic surgeon with certifications with the American Board of Otolaryngology – Head and Neck Surgery and the American Board of Facial Plastic Surgery. Dr. Sturm's meticulous nature makes for exceptional results and satisfied patients. Dr. Sturm was named Texas Monthly's Super Doctors Rising Star in 2016-2017, Texas Monthly's Super Doctor in 2018-2019, H Texas Magazine's Top Doc in 2013-2018, Top Doc by Houstonia magazine in 2016-2018, Houston Business Journal's People on the Move and 40 under 40, Blazing Star Award by Texas Women's Chamber of Commerce, Top Women in Business, one of the Top 30 Influential Women of Houston, Best Female Cosmetic Surgeon in Out Smart, and given the Patients' Choice Award, On Time Doctor Award and Compassionate Doctor Award by Vitals.com.