Tracheal shave surgery is a popular procedure for patients looking to diminish the appearance of a prominent Adam's apple. The term tracheal shave is actually incorrect. We do not shave the trachea, that is a very important structure for breathing. We contour the notch on the thyroid cartilage and is more appropriately called a chondrolaryngoplasty. Tracheal shave is one of the most sought-after procedures in gender affirmation or facial feminization surgery. As a comprehensive facial plastic surgeon, I perform this procedure on both transfeminine patients and cisgender female patients. When done well, tracheal shave surgery can have a life-changing impact — both for patients suffering from gender dysphoria and women who want to achieve a smoother, more feminine neckline. Here's a guide.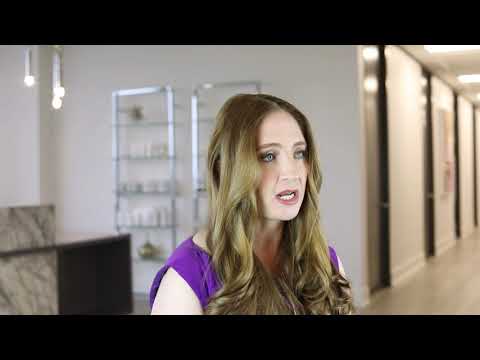 What is a tracheal shave procedure?
A tracheal shave procedure is a surgery where the notch on the thyroid cartilage is removed to help reduce the laryngeal prominence, commonly known as the "Adam's apple." It is one of the most requested procedures in gender affirmation surgery. Because of hormonal changes during and after puberty, the male larynx tends to grow larger than the female's, which also creates a deeper voice. Since we subconsciously relate an Adam's apple with masculinity, many transgender and cisgender women feel especially self-conscious about this trait. Tracheal shave surgery reduces the cartilage in this area of the neck, so that the Adam's apple is less pronounced.
During the surgery, the patient will be under general anesthesia or IV sedation. A small incision is made under the chin, usually near the juncture of the head and neck — not directly over the Adam's apple. Most specialists will then use an endoscopic camera and a needle to find the precise location where the vocal cords attach to the thyroid cartilage. Then, various instruments can be used to remove as much cartilage of the thyroid notch without risking damage to the vocal cords. The incision is then carefully stitched back up in a strategic fashion to avoid visible scarring. After the procedure, the patient's Adam's apple will be less apparent, and the neckline will appear softer and more feminine.
Does a tracheal shave procedure hurt?
A tracheal shave doesn't hurt during the surgery, as the patient will be under general anesthesia. In cases where tracheal shave is the only procedure being done, IV or "twilight" sedation may be used, depending on patient preference. During healing and recovery, pain is usually very minimal, and easily managed with pain medications and conscientious aftercare. Applying ice as instructed and keeping your head elevated, especially while sleeping, can help minimize postoperative soreness and swelling. Though some patients may have a bit of a sore throat for a few days, tracheal shave is usually very well-tolerated. Most patients do not report significant pain after surgery.
How long is tracheal shave recovery?
Complete recovery from tracheal shave surgery usually takes about two to four weeks, but most patients are ready to go back to work and resume normal activities after a week. Following surgery, you will have stitches at the incision site. These will be removed by your surgeon about 7 – 10 days after your procedure. Initially, you may have some swelling, bruising, and redness at the surgical site. It is possible to have soreness, a hoarse voice, or a bit of trouble swallowing for a few days. These symptoms should subside relatively quickly, but if anything seems out of the ordinary, never hesitate to call your doctor.
You will want to avoid shaving your neck until you have completely healed and your surgeon gives you the go-ahead. You should never shave near the surgical site while you still have stitches, as this can open up your incision. You may also be instructed to apply topical steroid creams or ointments, and to gently rub or massage the surgical site to prevent the formation of scar tissue. Always follow your doctor's aftercare instructions thoroughly to facilitate a speedy recovery.
How much does a tracheal shave cost?
The cost for tracheal shave will vary somewhat based on where you have it done and the experience level of your surgeon. The average cost of a tracheal shave is anywhere between $3,000 – $5,000. Unfortunately, the procedure is usually not covered by insurance because it is still not considered medically necessary in most cases. This means that the patient will need to pay for the surgery out-of-pocket. You will get a more precise estimate of the total cost, including anesthesia and operating room facility fees, at your initial consultation with a plastic surgeon. If you can't afford to pay for the whole procedure upfront, feel free to ask your surgeon's office if they offer financing options. Many do. And keep in mind that the cost of a tracheal shave may be reduced somewhat if you are having multiple facial feminization procedures at the same time.
Can I combine a tracheal shave with other procedures?
Yes, tracheal shave is often combined with other facial feminization procedures, all in one surgery. Many transgender patients opt to get tracheal shave along with other procedures like forehead and jaw contouring, rhinoplasty, and lip augmentation for overall feminization of the face. Combining tracheal shave with other feminizing procedures can be a part of their gender affirming journey to be comfortable in their own skin.
In fact, for transgender women, facial feminization surgery has been shown to have an even greater positive impact on mental health than genital confirmation surgery. And tracheal shave is one of the most important elements of facial feminization, simply because unlike other more masculine features, a prominent Adam's apple is difficult to conceal with cosmetics or styling strategies. Note that I also do tracheal shave on cisgender women who have a prominent Adam's apple due to genetic or hormonal factors. In either case, it often makes sense to have tracheal shave surgery done at the same time as other facial procedures. It usually saves patients money and additional recovery time.
Are there non-surgical alternatives to a tracheal shave procedure?
Tracheal shave surgery is usually necessary for post-pubescent patients who want to see a visible reduction in the laryngeal prominence. For younger transgender patients, hormone replacement therapy may help prevent the larynx from growing in size, which can prevent a conspicuous laryngeal prominence from forming to begin with. But for adult patients, tracheal shave surgery is usually the only way to achieve permanent and noticeable reduction of a protruding Adam's apple.
Do I need a tracheal shave plastic surgeon near me?
As a Houston-based facial plastic surgeon with ear, nose, and throat training, I perform tracheal shave surgery for patients in Houston and from all over the country. Tracheal shave is a delicate procedure that should only be done by a true expert. It involves incisions in vital areas, and cartilage manipulation around the vocal cords, the trachea or "windpipe," and the thyroid gland. If a surgeon is too aggressive with cartilage removal, voice changes and breathing problems can result. It is therefore essential to find a plastic surgeon who has a proven track record of success. If you are considering tracheal shave or other facial feminization cosmetic procedures, please do reach out to my office. We are always happy to hear from you, and genuinely care about creating life-changing results for our patients.
Have questions? I'd love to help.
Read More:
About Dr. Angela Sturm
Dr. Angela Sturm is a double board certified facial plastic surgeon with certifications with the American Board of Otolaryngology – Head and Neck Surgery and the American Board of Facial Plastic Surgery. Dr. Sturm's meticulous nature makes for exceptional results and satisfied patients. Dr. Sturm was named Texas Monthly's Super Doctors Rising Star in 2016-2017, then Texas Monthly's Super Doctor in 2018-2019, H Texas Magazine's Top Doc in 2013-2018, Top Doc by Houstonia magazine in 2016-2018, Houston Business Journal's People on the Move and 40 under 40, Blazing Star Award by Texas Women's Chamber of Commerce, Top Women in Business, one of the Top 30 Influential Women of Houston, Best Female Cosmetic Surgeon in Out Smart for multiple years in a row, Top 25 Beautiful People in Houston, and given the Patients' Choice Award, On Time Doctor Award and Compassionate Doctor Award by Vitals.com.