The difference between a platysmaplasty and a neck lift is that platysmaplasty deals only with the platysma bands in the neck, while a neck lift addresses the muscles and skin of the entire neck.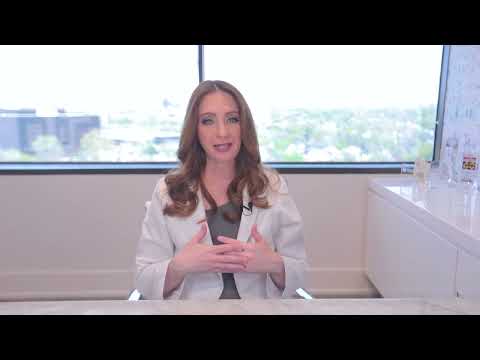 The platysma is a thin muscle that runs up onto the face, over the jawline and down into the neck. It's a very thin, flat muscle that, over time, comes apart. If you have prominent platysma bands, you'll notice them protruding from under your chin all the way down your neck. A platysmaplasty is the best way to address this. It's done by sewing the anterior part or the front part of those muscles together so you will no longer have those bands.
A platysmaplasty is usually done as part of a neck lift or a deep neck lift, where the structures underneath the platysma are removed, if they are excessive. Then the platysma is sewn together and the skin redrapes on its own. If you have extra neck skin, the platysmaplasty will help bring these muscles together to tighten the area, and the neck lift will lift the skin and muscles. The incisions go around the ear and back along the hairline or in the hair. A platysmaplasty can also be performed with a facelift.
How long does it take to recover from a platysmaplasty?
In general, the recovery time from a platysmaplasty is about a week. Everyone heals a little differently, but most people can go back to work in five days. However, it can take up to two weeks to heal, if other procedures have been done with the platysmaplasty.
What is the cost of a platysmaplasty?
This cost of a platysmaplasty varies widely depending on your geographic location, your surgeon, and how the procedure is being performed. Is it being done in the office under local anesthesia or is it being done in a hospital under general anesthesia and with other procedures? The cost can range anywhere from a couple of thousand dollars up to maybe $10,000 or even $15,000 when done with other procedures.
Have questions? I'd love to help.
Call me at (281) 336-9300
About Dr. Angela Sturm
Dr. Angela Sturm is a double-board certified facial plastic surgeon with certifications with the American Board of Otolaryngology – Head and Neck Surgery and the American Board of Facial Plastic Surgery. Dr. Sturm's meticulous nature makes for exceptional results and satisfied patients. Dr. Sturm was named Texas Monthly's Super Doctors Rising Star in 2016-2017, Texas Monthly's Super Doctor in 2018-2019, H Texas Magazine's Top Doc in 2013-2018, Top Doc by Houstonia magazine in 2016-2018, Houston Business Journal's People on the Move and 40 under 40, Blazing Star Award by Texas Women's Chamber of Commerce, Top Women in Business, one of the Top 30 Influential Women of Houston, Best Female Cosmetic Surgeon in Out Smart, and given the Patients' Choice Award, On Time Doctor Award and Compassionate Doctor Award by Vitals.com.